Was tun, wenn die schönsten Scene-Demos der Vergangenheit einfach nicht mehr auf dem aktuellen System laufen wollen? Der einfachste Weg ist heutzutage: Youtube! Nahezu jedes Szenedemo wurde bei optimalen Voraussetzungen, meist auf Originalsystemen aufgenommen und veröffentlicht.
Stellt sich nur noch die Frage: Was waren denn eigentlich die Highlights der Demoszene?
Für PC und AMIGA gibt es eine gute Möglichkeit, in 2 umfangreichen Compilations die besten Demos der Szene (von vor und um die Jahrtausendwende) direkt am TV anzusehen: Die Mindcandy-DVDs. Trixter/Hornet hat seinerzeit viel Zeit und Aufwand betrieben, umfassendes Hintergrundmaterial für die besten Demos der Szene zusammenzutragen. Und sogar ein (englischer) Audiokommentar der Macher ist bei den meisten Demos vorhanden.
Die DVD-Images kann man mittlerweile gratis auf dem scene.org FTP-Server downloaden.
http://ftp.scene.org/pub/demos/compilations/
Außerdem gibt es ein Preview von Mindcandy Vol 2 mit einem Making Of der Produktion
Ich hatte mir die DVDs damals noch im Original bei MAZ-Sound gekauft – Mindcandy Vol 3 war sogar auf BluRay erschienen.
Mindcandy Vol 1 – The PC Demos
Die erste Mindcandy-Compilation ist 2003 erschienen und beinhaltete 42 "klassische" PC-Demos der 90er bis 2002
>>> DVD-Download
Mindcandy Vol 2 – The AMIGA Demos
Die zweite Mindcandy-Compilation ist 2006 erschienen und beinhaltete 30 der besten AMIGA Demos.
>>> DVD-Download
Mindcandy Vol 3 – The PC Demos in HD
Die dritte und letzte Mindcandy-Compilation ist 2010 auf DVD und sogar BluRay erschienen und beinhaltete wieder PC-Demos, diesmal aber die 40 besten der neueren Generation (2003-10)
Die offizielle Seite des Mindcandy-Proj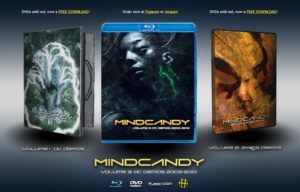 ektes ist noch im Netz verfügbar. MAZ-Sound hatte damals eine deutsche Version der Webseite erstellt, die auch noch erreichbar ist, jedoch funktioniert die Bestellung über MAZ-Sound nicht mehr, da der Shop schon vor Jahren seine Pforten geschlossen hat.